"The Brothers Karamazov" is the most important novel  by author Fyodor Dostoyevsky. Dostoyevsky spent nearly two years writing The Brothers Karamazov, which was published in 1879 to November 1880. The author died less than four months after its publication.
According to some critics this book of Dostoyevsky is the best novel of all time. Makedoniy Kiselev is a Russian film director. He will make  the film version of Dostoyevsky's book "The Brother Karamazov"
I made a short interview with Makedoniy Kiselev about the movie "The Brothers Karamazov"
Erol Anar: You worked in some theaters of St. Petersburg for several years. This is Dostoyevsky's city too. What kind of impressions do you have about St. Petersburg?
Makedoniy Kiselev: I was born here. The city has instilled in me a selfless service to art, because great geniuses have worked here: you are impregnated with their spirit, and want to achieve the same degree of perfection, sharpness and great beauty.
What do you think about Dostoyevsky as a novelist?
MK: Dostoevsky has such a broad meaning for me that I can't talk about him only as a novelist. For me, first of all, he is the prophet who foresaw the future not only of Russia but of the world. If you talk about him as a writer, I haven't been shaken by anybody in all of literature as I have by him, because no one else can see and describe such subtle movements of the human spirit.
Why did you chose to make movie based on the novel of Dostoevsky's the Brothers Karamazov. It is a your dream?
MK: Yes, it is my dream. I did not choose it, it choose me. I reread this work many times, constantly discovering new facets of meaning. All my creative work is imbued with this novel, I touched on it many times, and not until five years ago came to present it on stage in a full production, and now in the movie.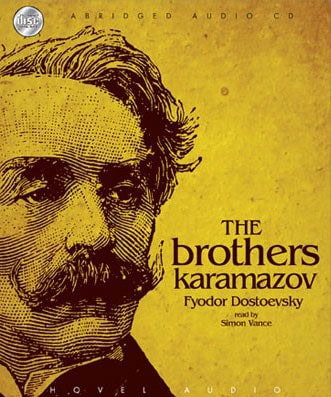 When will start to realize this project?
MK: We have already started. The film has been in production since September 2015. Now we are preparing for the next series of shots.
The film team is ready to work on this project?
MK: Our team is a living organism. It is constantly joined by people burning with the desire to touch the great work. Each new person brings their ideas, which are organically embedded in the project and enrich it. We are open to new contacts and suggestions constantly.
What kind of difficulties have to do this movie?
MK: Since the project was originally implemented as a non-profit, it is very difficult to find the right interiors for free shooting. It is very difficult to reconcile the schedules of the actors who are engaged in other paid projects. Besides, technical equipment is required which we cannot afford. And of course, non-commercial post-production does not exist.
About the project
«Lubovi Skotoprigonyevska» is an independent non-profit full-length feature film based on The Brothers Karamazov, F. Dostoevsky's last and most magnificent novel. The film explores the Human at the highest point of internal stresses and contradictions. In a situation of choice and overcome by their passions, will these people forgive each other and who will stay alive?
The action centers round the brothers Karamazov's struggle with their women, their passions and God. The detective line of the murder runs in the background. In the foreground there is a love story of a teenage girl in a wheelchair and Aleksey Karamazov, the youngest brother, who is torn apart by his brothers' passions and his brothers' women, because they consider him to be an angel and the only person able to help in their complicated relations.
Link: http://www.lubovithemovie.ru/

Makedoniy Kiselev
Has been trained as actor and Director. Worked in some theaters of St. Petersburg for several years. In 2003 moved to Germany and worked as an assistant Professor in Berliner Ensemble, Theater Academies Of Leipzig, Weimar, Munich, Graz. In 2011 returned to Russia to implement the project in all of his dreams – the play and now movie "Lubovi Skotoprigonyevsksa".
Comentários Facebook
comentarios